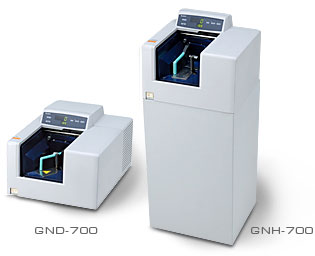 GNH-700 & GND-700 Series are next generation vacuum-based banknote counters. With features such as variable counting speeds, easily adjustable count positions and a dust-proof, anti-noise shutter, the GNH/GND-700 Series offers the fast and efficient verification of strapped banknotes.
Variable counting speed
With selectable counting speeds of 1000/1500/2000/2400 pcs/min, at the highest speed selection, a 60% productivity increase is achieved over conventional models (1500 pcs/min.). At the lowest speed selection, the GNH/GND-700 Series is 33% slower than conventional models, making it ideal for counting poor quality banknotes.
Easily adjustable counting positions
A new Adjustment Knob locates the best counting position, and minimises mis-counting of banknotes with pinholes or folded-corners.
Dust-Proof and Anti-Noise Shutter
The GNH-700 and GND-700 are equipped with dust-proof and anti-noise shutters, which open and close automatically on the start and stop of each counting operation.
Simple and viewable operation panel
The LED display on the compactly designed operation panel, ensures clear and easy viewing, indicating the number of counted banknotes with 4 digits, and batch numbers with 3 digits simultaneously.