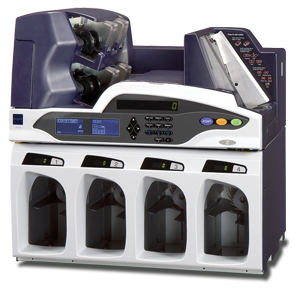 The state-of-the-art Glory UW-500 and UW-600 were developed based on an in-depth analysis of banknote handling processes in order to lower the operator's workload and further reduce overall processing time. They are equipped with a variety of new features, such as a multi-stacker system that improves sorting and separating performance, a twin reject stacker system that can hold more rejected notes, and a large-capacity hopper with an Assisted Feeding Mechanism.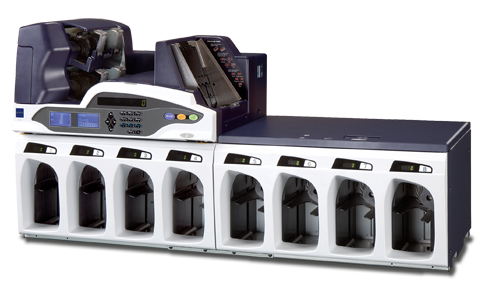 The UW-500/600 also offers outstanding cost-performance features at a high return on investment. They are Glory's latest answer to the need for smoother, more efficient, continuous processing of large amounts of banknotes. The UW-500/600 will optimise your work processes and dramatically reduce costs.
High-tech recognition capability with superb authentication
Banknote handling machines must deliver both high efficiency and a combination of speed and accuracy. Glory's UW-500 and UW-600 offer high-tech fitness sorting sensors and superb authentication sensors while processing at a remarkably high speed of 720 notes per minute.
Multi-stacker configurations for diverse sorting patterns with fewer re-sorting steps
The UW-500 is equipped with four stackers, and the UW-600 comes with eight stackers. This allows diverse sorting and arrangement patterns for each banknote setting operation, and reduces the number of re-sorting steps required by machines with fewer stackers.
Higher efficiency for continuous, large-volume processing
Each of the UW-500/600 stackers holds up to 500 banknotes. This significantly increases efficiency and speed while continuously processing a large volume of banknotes, reducing the frequency of stopping and starting.
Efficient processing
The large-capacity hopper holds 1,000 banknotes. With the Assisted Feeding Mechanism, the hopper reliably feeds one note at a time to prevent jamming or high rejects due to double feeding. The open-type hopper provides visibility of the banknote feeding process so more notes can be added in continuous large-volume deposits.
Twin reject stacker system – less work for sorting rejected banknotes
Two enlarged reject stackers, holding up to 150 banknotes each. Two enlarged reject stackers have greatly improved the UW's "Non-Stop Operation" and allow suspected counterfeits to be diverted to a dedicated reject stacker, saving time when reconciling deposits. This reduces the amount of work normally required for sorting rejected banknotes.
Ease of use and operation
The display features two side-by-side LCDs, one for displaying data and messages and the other for use as an illustrated system guide. Wide display screens substantially improve visibility.
Easier maintenance – quick recovery reduces processing interruptions
The system features a fully opening top that allows easy maintenance of the banknote transport section. Should banknotes or foreign objects jam in the counting or transport section, the wide-opening upper section of the main unit makes it easy to find and remove the jammed notes or foreign object.