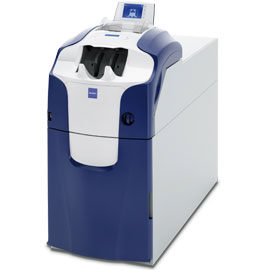 Future proof intelligent cash management
To meet the challenges and gain the competitive edge in today's business environment, successful financial institutions require efficient and proven teller recycling solutions. That means choosing a business partner that provides the latest technology innovations, industry expertise and award winning customer service. Glory's new banknote recycling machine, the RBG-100, answers these challenges by providing an efficient high performance cash management solution designed to process customer transactions, ATM replenishment, large deposits and teller vault buys and sells.
Large banknote capacity
The RBG-100 provides up to a 12,600 note capacity that includes approximately a 9,900 recyclable banknote capacity and a secure collection cassette of up to 2,700 notes. The note counting mode can also be used to count different currencies.
Continuous processing with large hopper
A 300 note feed hopper provides fast processing of large banknote deposits without interruptions and more opportunities for customer engagement.
Tamper proof cassette
Tamper proof cassettes are secure and can be easily configured by denomination. The collection cassette stores non-recyclable notes for more efficient operation.
Enhanced security
The UL-291 24 hour safe allows for overnight storage of cash inventory. There is no need to remove cash to an external vault at the end of business hours.
Configurable cassettes
The configurable collection cassettes provide simultaneous recycling of up to 5 different banknote denominations.
Collection cassette
Excess and unfit banknotes can be securely stored, as well as other denominations previously configured as acceptable.